A 98-year-old woman living in County Mayo is to receive a special honor from the United States House of Representatives in Belmullet this evening, for the role she has played in changing the course of world history with her weather reports.
Maureen Sweeney, from County Kerry, predicted an impending storm from Blacksod station in 1944, which changed the timing of the D-Day landings and ultimately secured the Allies' victory.
The remote Blacksod Lighthouse and Coast Guard station played a key role during WWII in providing Britain with weather reports.
Ted and Maureen Sweeney were among those who took hourly readings, which were secretly phoned in London.
At 1 p.m. on June 3, 1944, 21-year-old Maureen was the first to predict a severe Atlantic storm, which resulted in a change of plan in one of the world's largest military operations.
D-Day has been postponed to June 6 and the rest is history.
Maureen's readings unwittingly gave the Allies a two-day advance warning of stormy conditions in Western Europe, forcing General Dwight D Eisenhower to delay his meticulously planned invasion of Normandy.
Maureen's son Vincent is the keeper of Blacksod Point Lighthouse and he recalled how she used rudimentary instruments and equipment to record weather data.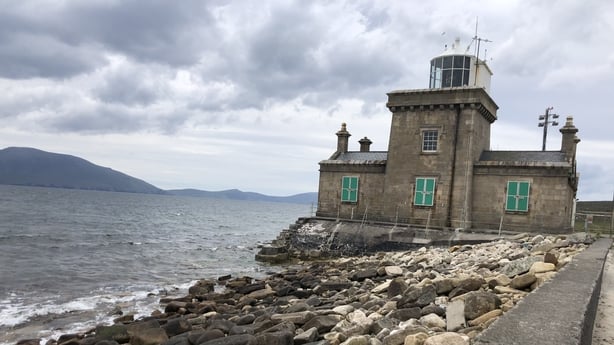 It was one of his jobs in the small post office in Blacksod, which he described as "a world far from the bloodshed and the tragedy of war."
Vincent said people in the area had no idea of ​​the importance of the weather report and rather of the role it was to play in the war.
Maureen Sweeney will be honored at the Tí Aire Retirement Home in Belmullet.
A letter will be read from the WWII Museum in New Orleans, Louisiana, along with a personal note from U.S. Congressman and retired 3-star Admiral Jack Bergman (Michigan's First District), who is the highest ranking veteran to ever serve. in Congress.
The special recognition, which has been awarded since 1789, entitles Maureen to receive a proclamation commemorating her accomplishments, and will be placed in the United States Library of Congress in perpetuity.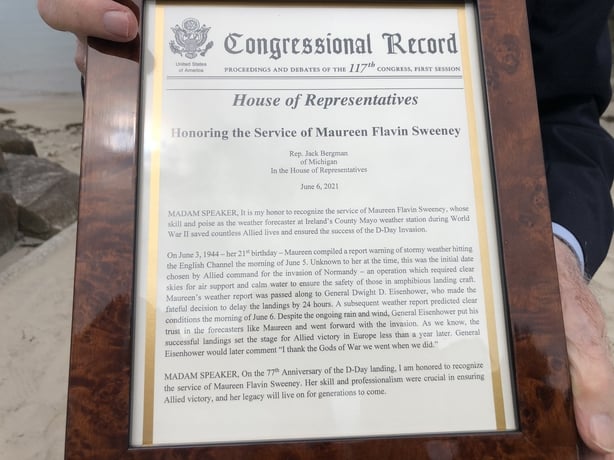 A special medal in recognition of Maureen's "Commendable Deeds" will be placed on her lapel and there will be music and poetry for the D-Day heroine of Mayo.
Speaking in a recorded interview with her grandson Fergus Sweeney in 2014, Maureen said: "Eisenhower was making up his mind whether he should enter France or not. He was very divided but when he saw the Blacksod Point report, he confirmed that he had made the right choice.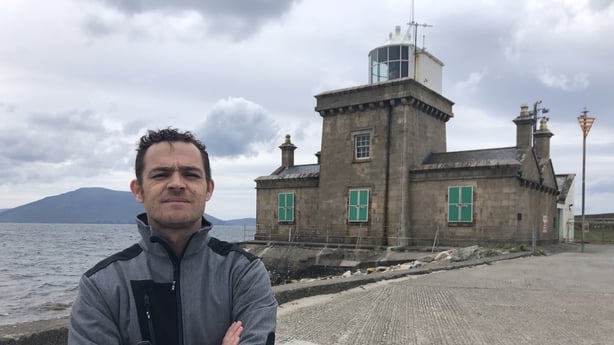 "This report was sent by June 3 and the next morning there was a question around 11 am. And then there was a second question. A lady with a distinct English accent asked me to ' Please check. Please repeat! "We went back to looking at the numbers. We checked and rechecked and the numbers were the same both times, so we were pretty happy then."
Maureen proudly added, "They put their trust in our weather forecast. It's something you will remember all your life."
It was more than a decade before Maureen Sweeney and her family learned how this weather report helped turn the tide of World War II.
In a Nationwide interview taped 15 years ago, Maureen laughed at the role Blacksod played.
"They could fix everything but they couldn't pre-organize the weather! They had everything sorted out to the smallest detail but our weather report put the first spoke in the wheel.
"They would have gone ahead and the invasion would have been a complete disaster. They were there with thousands of planes and they couldn't tolerate the low clouds. We're glad we put them on the right track. . We finally had the last word! "
John J Kelly is a first generation Irish-American and was fascinated by Maureen's story and decided to get official recognition for the Sweeney family.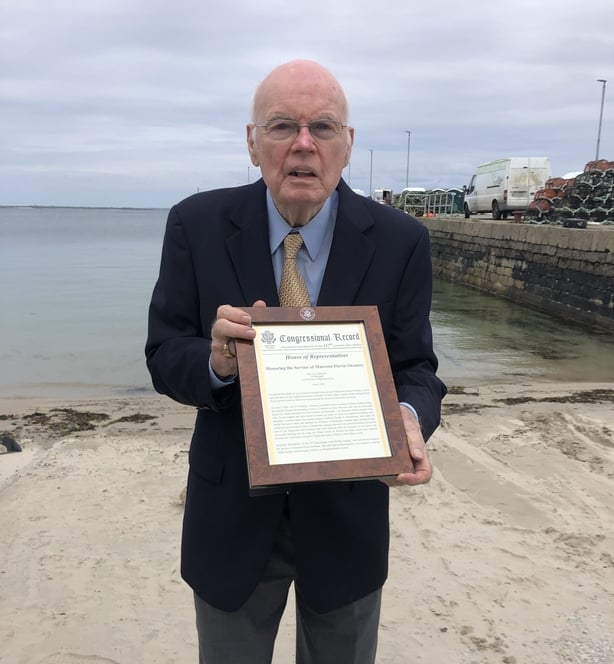 He said he was extremely honored to have been tasked with presenting the award to Ms Sweeney.
Source link